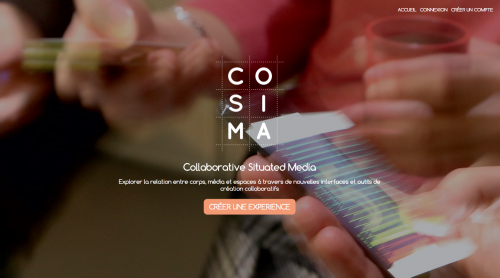 Le projet ANR CoSiMa a pour objet la mise en œuvre d'une plateforme auteur dédiée à la création d'expériences situées collectives avec des mobiles. A l'issue d'un processus collaboratif de conception et mise en œuvre, une première version opérationnelle de la plateforme est en phase de test.
La plateforme CoSiMa se présente sous la forme d'un service SaaS permettant de créer un projet diffusé simultanément sur de multiples supports : mobile, iOT, serveur, desktop… L'utilisateur accède à un ensemble de ressources et fonctionnalités lui permettant de prototyper, finaliser et diffuser son projet, sans compétence préalable en programmation. Le champs de fonctionnalités offertes est cependant particulièrement étendu :
Synchronisation  fine entre supports (mobile, iOT, PC…)
Echange de flux de données haut débit
Son 3D
Géolocalisation indoor/outdoor
Synthèse sonore
Réalité augmentée 3D
…
Pour participer à la phase de bêta-test, contactez-nous : contact@orbe.mobi
The ANR CoSiMa project aims to implement an authoring platform dedicated to the creation of collective experiments with mobiles. At the end of a collaborative design and implementation process, a first operational version of the platform is being tested.
The CoSiMa platform is a SaaS service allowing to create a project distributed simultaneously on multiple supports: mobile, iOT, server, desktop … The user accesses a set of resources and functionalities enabling him to prototype , finalize and distribute his / her project, without prior competence in programming. However, the scope of features offered is particularly wide:
Fine synchronization between devices (mobile, iOT, PC …)
Exchange of high-speed data streams
3D Sound
Indoor / outdoor geolocation
Sound synthesis
3D augmented reality
…
To participate in the bêta-test phase, contact us: contact@orbe.mobi